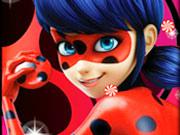 Ladybug Hidden Candys
Ladybug Hidden Candys is fun hidden objects game, if you are a real fan of the cartoon Miraculous Ladybug, you shouldn't miss this, there will be five candies in every picture, find them all can bring you to the next challenge, passing all the challenges you will win, you may need to be really observant to pass. Good luck and have fun!
Find more great free online mobile games at gameyay.com! Including running, adventure, car, parking, driving, riding, shooting, fighting, sports, matching, gold mining, money collecting and puzzle games, cooking, baby and pregnancy caring, doctor, dress up, makeover, jewel, shopping hair style, nail coloring, surgery, design and decoration games, and more!