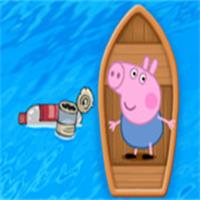 Piggy Looking for the Sea Road
Today we are bringing for you a new online game from the Peppa Pig games category, in which we are sure that you will have a great time, because this is a new online action game, in which you will have to be very fast and very careful, because you will be with a boat on a river, and you will have to make sure that you will manage to have a great time, because you will have to drive the boat along the river, but you will have to make sure that you will be able to avoid all the dangers that will float on the river, and that means that you will gain a lot of points, but you have to be very fast, because dear friends you can see that your boat with Peppa Pig will go faster and faster, and you have to make sure that you will be able to control it. Players will be happy to meet with the wonderful pig Peppa, who prepared a new adventure in the game Piggy Looking For The Sea Road. The heroine decided to conquer the sea, but did not go too far, but to an island near the bay where she stayed with her parents. The baby dreams of finding pirate treasures, perhaps on a small uninhabited scrap of land they are buried. To get to him, the heroine got hold of the boat, and with the help of arrows you will help her run the boat. On the way will come across stone reefs and any debris that floats in the water. Go around the obstacles so as not to damage the boat.
Find more great free online mobile games at gameyay.com! Including running, adventure, car, parking, driving, riding, shooting, fighting, sports, matching, gold mining, money collecting and puzzle games, cooking, baby and pregnancy caring, doctor, dress up, makeover, jewel, shopping hair style, nail coloring, surgery, design and decoration games, and more!